Listed in Stanford University's list of the World's Top 2% scientists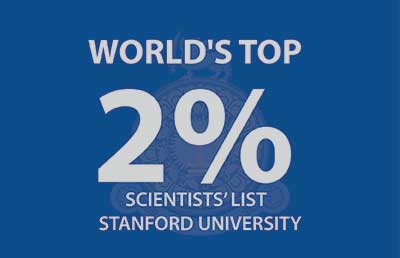 Stanford University's list of the World's Top 2% Scientists, commonly referred to as the "Stanford Highly Cited Researchers List," represents a comprehensive effort to recognize exceptional researchers across diverse fields. The list consist of the top 2% impactful researchers compiled by Stanford University's professors and published by Elsevier Publishers. The selection is based on the top 100,000 scientists divided into 22 scientific fields and 174 sub-fields according to the standard Science-Metrix classification. The data was extracted using standardized information on citations, h-index, co-authorship adjusted hm-index, citations to papers in different authorship positions, and a composite indicator (c-score). It is a prestigious acknowledgment of their research excellence and influence within the global scientific community. Being listed as one of the world's top 2% scientists is a significant achievement and demonstrates the researcher's sustained and impactful contributions to their field of study.
In 2024, Prof. Dr. Ali Raza was listed in Stanford University's prestigious compilation of the World's Top 2% Scientists in the field of "Business & Management" for the 4th consecutive year. This prestigious honor demonstrates Prof. Dr. Ali Raza's position as a leading authority in the field and accentuate the value of his research in shaping business practices, management strategies, and decision-making processes. His dedication to scholarly pursuits has undoubtedly made a positive impact on the academic and has contributed to the advancement of Business & Management. Prof. Dr. Ali Raza's recognition on this illustrious list further solidifies his position as a luminary in the field of Business & Management. Moreover, this acknowledgement positions him at the forefront of driving progress and innovation in this critical area of study.